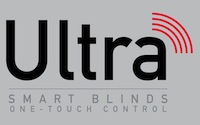 Appeal's ranges of conservatory, window and specialist blinds can be electrically controlled. Using remote control motorisation allows you to operate the blinds easily and quickly. Electric blinds are particularly handy when controlling large numbers of blinds or operating blinds located in difficult to reach places such as high roofs or unusually shaped windows.
Operating a large number of blinds is easy with a remote control system – the controller can be pre-set to open or close a selection of blinds at the press of a button. So if the sun hits your room at a particular time in the day then the remote control will allow you to lower the blinds required to shade the room.
There is a choice of control systems for electric blinds including ULTRA Smart Blinds. The ULTRA range of blinds use re-chargeable powerpacks and are ideal where cabling might look obtrusive or present a problem. The motor and batteries are all neatly tucked away within the headrail of the blind. Optional extras include a discreet solar panel which sits on the window and in conjunction with the powerpack allows the use of the blind all year round using the natural energy of the sun. Other options include timer controls (open and close the blinds according to the time of day), temperature sensors (which lower the blinds when the room gets too hot) and a light sensor which will protect furnishings and carpets from damaging sunlight.
PowerDrive™ handheld controls and wall mounted panels wired into the mains are available for our ranges of conservatory blinds.
Appeal electric blinds can be combined with other home integration systems so you can now access and operate all the blinds in your home together with your heating, home entertainment and other systems.
Electric Blinds that are simple and easy to use
Appeal remote control systems are really easy to use. Watch our videos to see just how simple they are to use: