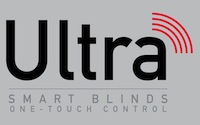 Bi-Fold, Sliding and Patio or French Doors are an increasingly popular way to make your garden feel like an extension of your home. Appeal offers a range of blinds specially designed for bi-fold, sliding and patio or French doors that will reduce the sun's glare from outside, protect furnishings from the harmful effects of the sun as well as keeping temperatures cool in the summer. And in winter they will also help to reduce heat loss and energy costs during the colder weather as well as giving privacy during the longer darker nights.
Whether you're interested in classic yet versatile Roller blinds, our thermal Honeycomb Energy-Saver option, stylish Pleated blinds or sleek and practical Aluminium Venetian blinds, Appeal's wide variety of styles, fabrics and colours means there is something to complement every set of bi-fold and double doors perfectly.
ULTRA Smart Blinds one-touch control means that you can operate your blinds at the touch of a button. See the videos below to see how, quick, easy and convenient ULTRA Smart Blinds are to use. A choice of wall mounted and handheld remote control operation is available to give the utmost convenience.