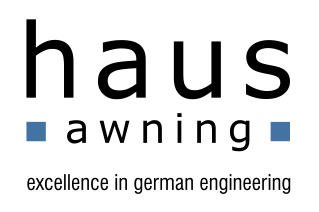 For those who appreciate laid back outdoor living, a beautiful Haus awning complements any lifestyle and home exterior. Whether you are dining alfresco, entertaining friends or simply spending time with your family in the fresh air, the Haus awning will allow more time to be spent outdoors during the day and night. Click here to see a 2 minute video of our range of awnings.
Beautiful patio awnings create the perfect space for outdoor living
Shade is an essential feature in any garden and clever design means that you can leave the control of your awning up to the weather sensors. These sensors will automatically extend the awning to give shade when the sun's out and retract the awning if there are strong winds. A versatile design that's functional by day and night, the Haus awning features innovative touches such as luxurious built in, dimmable LED lighting and radio controlled infrared heating.
*NEW* Control your Awning via your smartphone or tablet with ULTRA® PLUS
Appeal Home Shading's precision engineered Haus awning® is now available to operate via ULTRA® PLUS for your smartphone or tablet. So management of your outdoor shading is not only at your fingertips when you're home, but when you're out and about – including abroad.
Touch-screen control:
A simple command will open and close your Haus® awning – whether you're at home or not.
Timer-mode:
Your Haus awning can be set to extend and retract at any time of day to suit your needs. It can even be programmed to track the changing sunset and sunrise times, allowing you to create a cool and shaded outdoor space during hot summer days, and even protect your indoor furnishings from potentially harmful sunlight.
Customised scenarios:
ULTRA® PLUS can be programmed with pre-set scenarios to suit different circumstances of your day-to-day life. Why not have an "Al fresco Dinner" scenario – with the touch of the button have your Haus awning extend, your dimmable LED lights switch on and your infrared heating start to make things cosy. Perfection.
Haus – a new dimension in awning design
With precision German engineering and manufacturing, the mf2600 model combines innovative design with state-of-the-art-technology. High specification components have been selected to ensure the awning has superior strength and operates smoothly and reliably. Designed to last a lifetime, the mf2600 provides a large coverage of up to 22 sq metres (237 sq ft).
The h2450 model also uses the state-of-the-art-technology utilised in the h2600. It is semi-cassetted and offers excellent value. The maximum coverage it provides is 24.5 sq metres (up to 7m wide with 3.5m projection, equivalent to 264 sq ft).
The h1650 is designed to cover smaller areas so features an ultra slim design. The maximum width for this awning is 5.5m with a 3m projection that gives coverage of 16.5 sq metres (178 sq ft).
The Haus Pergola – the perfect solution for maximum shade and for the sun or rain. Provides a comfortable and usable outdoor living area in a variety of weather conditions. Up to 6m wide x 5m projection to provide the largest shade footprint in the Haus range.
Nb. The models of awnings available may be subject to change.  Please note that we do not currently supply Haus Awnings in Scotland.
Flexible Payments
We have a choice of flexible and competitive payment options available whatever your budget (from 7.9% APR Representative). For more details click here.