Window Shutters – the perfect solution for shaped windows
Get in Touch!
If you're feeling inspired to improve your home with our range of blinds, shutters, screens and much more, you can get in touch with our expert design consultants. We'll be happy to answer any questions you might have.
Contact Us
---
Share this page
Do you have interesting shaped windows and feel like you're going round in circles with how to shade them?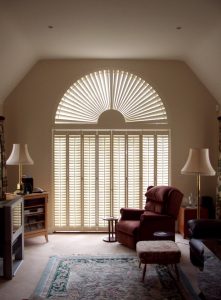 Don't let them become your 'arch-enemy' – Appeal's bespoke wooden window shutters can be the perfect solution for windows of all shapes and sizes; they offer privacy and light control while adding style and elegance to your living space.
           
For more information, click here