How to make your home cosier this winter
Get in Touch!
If you're feeling inspired to improve your home with our range of blinds, shutters, screens and much more, you can get in touch with our expert design consultants. We'll be happy to answer any questions you might have.
Contact Us
---
Share this page
"My home feels cold and dark since the clocks went back. I want it to be cosy."
When the clocks went back last weekend, we enjoyed that one-off treat of an extra hour in bed. But the enjoyment was short-lived. Even if you didn't feel that sense of the nights drawing in on Sunday evening, you almost certainly did on Monday… the afternoon school run or the journey home were that much gloomier than the week before. And walking into your house in the evening, it just doesn't feel cosy.
And with the dark comes the cold. Uncovered windows suddenly become chilling walls. In the average house, 20 percent of heat loss is through the windows. And these days, with acres of glass increasingly on-trend in extensions and conversions, that percentage increases – meaning higher bills.
The dark outside can make you feel vulnerable too, as your lights blaze and compromise your privacy. The predictable timing of you turning on your lights and drawing your shades are potentially a signal of whether you're in or out.
Appeal Shading can make your home feel more cosy, private and secure
ULTRA Plus Smart Blinds: Appeal's award-winning ULTRA Smart Blinds are available with control via an app, and now we've added voice activation through Amazon Alexa or Google Home.
The ULTRA system lets you choose from a huge range of blind styles, materials and colours and have them tailor-made to your space. They are raised and lowered by a discreet motor and powered by a battery pack hidden behind the headrail. No dangling cords and no need for wiring – the battery pack is simply recharged after around a year's use.
Choosing ULTRA Plus means you can control your blinds (as well as Philips Hue bulbs and devices on smart plugs) while you're out. You can set winter scenarios on your phone or tablet to ensure you come home to a cosy ambience (including using the timer mode to track the sunset). Or add to your security measures by setting the blinds to open and close at unpredictable times if you're out for the evening.
The addition of voice activation adds another element of control. If a cloudy day means it's darker than you expected when you get home in the afternoon, you can instantly switch to an evening ambience. And, with a few words, you can lower blinds you usually keep open for extra privacy.
Find out more here.
Conservatory blinds for "summery" rooms
Whether you have a conservatory, orangery, garden room or gable ends in a barn conversion or similar, you may have tricky shapes and sizes of glass to cover to make it cosy all-year-round.
Our expert design consultants and fitters, as well as the craftsmen and craftswomen who hand-cut our blinds, have a huge amount of experience creating customised blinds for precise coverage of unusual shaped glass areas, including tall and high windows, curved windows, bi-fold and patio doors. For example, ClearView™ gable end pleated blinds provide a neat, attractive and functional solution, which retract completely when not required, with no guide wires spoiling the view (using the ULTRA system).
Explore the range here.
Hi-tech temperature control
For spaces that need extra insulation to make them cosy year-round, Appeal has a number of specially developed materials with temperature-control properties.
For floor-to-ceiling windows, Alu-Pleat is a translucent fabric which lets light in but has unique insulation properties to reduce heat loss, lowering your energy bills. Meanwhile, Honeycomb Energy Saver blinds – part of the ULTRA Smart Blinds range – are designed to trap air in double-layered hexagonal pockets to form an 80% thermal barrier.
For more info, click here.
Our anniversary gift to you!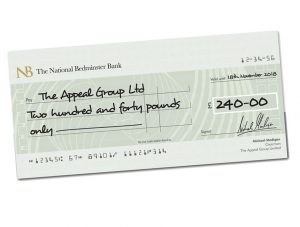 A message from the Chairman of the Appeal Group Ltd:
"Appeal was founded in 1988, and we have spent 30 years providing the best window shading solutions to thousands of satisfied customers throughout the UK. We have prided ourselves on technological innovation, bespoke craftsmanship in our manufacturing and fitting, and a high level of service based on expertise and understanding customers' needs.
To mark this anniversary we will be sending a cheque to the value of £240 to every household that arranges a design consultation between now and Sunday 18th November. This cheque can be used as part payment against any order placed during that time for any Appeal Group product, including those described in this email."
Michael Madigan, Chairman
For full terms and conditions on this and other Appeal special offers, click here