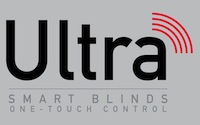 The Veneto Fabric Venetian combines the contemporary style of a fabric blind with the functionality of a traditional venetian blind.   Its unique construction incorporates soft rotating vanes between two layers of translucent fabrics.  Working in the same way as slats on venetian blinds, the vanes can then be simply adjusted to control the amount of light, shade and privacy in the room, according to your requirements.  Adjusting the vanes allows an unobstructed view through the fabric and soft light to filter through or alternatively with the vanes turned, increased shade and privacy.
Veneto blinds also provide good thermal control, reducing heat loss in winter and keeping temperatures at a comfortable level during the summer.
And for the ultimate in remote control, there is the option of ULTRA Smart Blinds technology. Using the latest in wire-free automation, ULTRA Smart Blinds will give you control at the touch of a button. Click here for details.